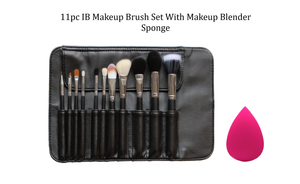 11pc IB Makeup Brush Set & Makeup Blender Ball
11pc IB Makeup Brush Set with Carry Pouch & Makeup Blender Ball
IB represents fairness, quality, luxury and superb workmanship. Each luxuriously black IB brush set has the IB logo embossed to the handle and is made using chrome aluminium silver. These outstanding make up brushes are packed in a sophisticated leather pouch ensuring you can always find the brush you need, when you need it
11 brushes ranging from:

Eyeliner.
Oblique Eyebrow.
Various Eyeshadow.
Foundation.
Multi-function.
Angled Contour.
Blush.
Powder Brushes.
Natural and synthetic hair to deliver flawless makeup application.
Very sturdy black matte handle with crimped aluminium ferrule to reduce bristle shedding.
Black protective case to allow for easy packing away and travel.
Teardrop Makeup Blender Sponge
The Blender Ball has a unique shape and exclusive material. It ensures impeccable, streak-free application with minimum product waste. Use it with primers, foundations, powders, cream blushes, and any other complexion product.
The Blender Ball features an open cell structure that fills with small amounts of water when wet. This allows the sponge to be 'full' so that the makeup product sits on top of the sponge rather than being absorbed, allowing you to use less product every time. When wet, The Blender Ball doubles in size and becomes even softer, returning to its original size when it air dries.
Wash after use using The Blender Ball and place on top of the storage case to air dry. Once the sponge has dried it will reduce to its original size and drop back into the canister.